(En Français, in Italiano, en English)
 12° ITALIART  l'Italie à Dijon 5/31 MARS 2018 Festival Italien  L'unique festival Italien  Pluridisciplinaire artistique de France

La fantaisie, la joie et les talents artistiques d'Italiart sont de retour « au cœur de la ville » pour la 12ème fois. Dijon et la France s'ouvrent à la culture italienne tant appréciée dans le monde entier. Cette année à l'affiche une multitude d'évènements à ne pas manquer : du théâtre, les concerts pop, folk,, jazz la chanson d'auteur, performance, lectures ,les arts plastiques, les émissions radios, la gastronomie et, bien entendu, les artistes italiens de la nouvelle génération parmi les plus réputés et populaires dans leur pays.
Un petit grain de folie et d'extravagance à l'italienne, voilà comment depuis 12 ans Italiart annonce le retour du printemps à Dijon !
Le public à désormais inscrit sur son agenda ce rendez-vous annuel dont il apprécie l'originalité, le courage et la simplicité. Sans besoin de déployer de gros moyens, cette manifestation populaire offre, depuis ses débuts, une qualité artistique incontestable et l'occasion d'un échange humain, culturel et intellectuel.
    (Traduction Valeria Cacace)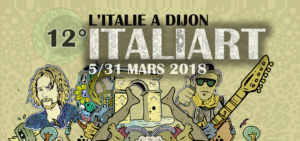 12° ITALIART l' Italia a Digione  12° Edizione 5/31 Marzo 2018 L'unico  festival Italiano Contemporaneo multidisciplinare di France

Ritorna Italiart per la dodicesima volta nel cuore di Dijon con fantasia, gioia, l'allegria , il talento artistico di sempre . Dijon e la Francia si aprono alla cultura italiana tanto amata nel mondo. Italiart propone un cartellone ricco di eventi culturali , dal teatro ai concerti con stili diversi dal pop alla musica folk popolare alla canzone d'autore, danza, arti plastiche alla lettura, programmi radio e gastronomia con tanti protagonisti giunti dall'italia a Dijon , artisti della nuova generazione tra i più popolari e premiati della penisola italica .
Italiart da 12 anni annuncia la primavera e la bellezza della vita con un pizzico di follia e stravaganza all'italiana.
Questa manifestazione che è ormai entrata nel cuore del pubblico per l'originalità, il coraggio delle sue proposte e per la sua semplicità essenziale , senza grosse macchine, grosse scene, budget, riesce comunque ad essere un festival di alta qualità artistica , scambio umano , culturale ed intellettuale che bene rappresenta la creatività attuale della scena italiana.

Italiart da i suoi debutti si è subito presentata come una manifestazione popolare ma anche come un luogo di idèe e di arricchimento culturale

12° ITALIART italy in Dijon 5/31 MARCH 2018 Italian Contemporary Multidisciplinary Artistic Festival
The festival made by artists for artists, art and people
The fantasy, joy and artistic talents of Italiart are back « in the heart of the city » for the 12th time. Dijon and all the France are opening up to the Italian culture so much appreciated all over the world. This year, there are a multitude of events not to be missed: theater (in French!), Pop concerts, folk concerts, author songs, dance performances, plastic arts, Gastronomy and, of course, Italian artists of the new generation among the most famous and popular in their country.
A little grain of madness and Italian extravagance, this is how 12 years ago Italiart announces the return of spring in Dijon!
The  public has now entered on its agenda this annual appointment which they appreciates originality, courage and simplicity. Without the need to deploy massive means, this popular event offers, since its beginnings, an indisputable artistic quality and an opportunity for a human, cultural and intellectual exchange.
! ( Traduction By Chiara Moraglio)