OUVERTURE OFFICIELLE DE ITALIART FESTIVAL 12° ÉDITION 2018
VENDREDI 9 MARS À 11H : AUX HALLES Du Marche (GRATUIT)
Vernissage de l'exposition «

De DANIELA CORSINI »

, 
avec La consul D'Italie à Paris Mme Emilia Gatto, les autorités locales,  les artistes et les médias et La présence des Train Thello qui offriront deux Voyages Dijon/Milan/Venise 


PERFORMANCES D'ARTISTES ITALIENS

Apéritif  par la Mairie de Dijon, dégustation de pizza 
par Pizza Passion (41 Rue Sambin, 21000 Dijon) et Produit gastronomiques Italiens par SOLE DI SICILIA halles du marche de Dijon
DANIELA CORSINI (Florence)
( Photos/Graphismes )
Daniela Corsini est la fondatrice de Filstrismo, le mouvement de photographie picturale dont elle a définie les éléments constitutives au début de ce siècle, synthétisant dans son art les études psychologiques sur la perception des décennies précédentes.
Son œuvre montre le rapport entre ce qui peut être considéré comme objectif et les évocations dérivant de cette objectivité, en une opération aussi complexe que linéaire. Elle prend tout d'abord des photographies de ce qui suscite en elle le plus de sensations, puis les réinvente au moyen d'instruments numériques, jusqu'à l'obtention de sa vision personnelle du sujet photographié
Lieu : HALLES DU MARCHE historique de Dijon entreE rue BANNELLIER
AFFICHE D'AUTEUR 2018 PAR MASSIMO PASCA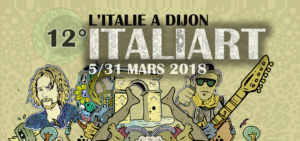 APERTURA UFFICIALE DEL FESTIVAL ITALIANO 12° EDIZIONE 2018
VENERDÌ 9 MARZO ALLE 11: NEL MERCATO STORICO  (GRATUITO)
Apertura della mostra « Di DANIELA CORSINI », con autorità, artisti e media.
PERFORMANCE DI ARTISTI ITALIANI
Aperitivo del municipio di Digione, degustazione di pizza Passion (41 Rue Sambin, 21000 Digione) e prodotti gastronomici italiani di SOLE DI SICILIA sale mercato di Digione.
DANIELA CORSINI (Firenze)
(Figurazione/Grafica)
Daniela Corsini è la fondatrice di Filstrismo, il movimento della fotografia pittorica i cui elementi costitutivi sono stati da lei definiti all' inizio di questo secolo, sintetizzando nella sua arte gli studi psicologici sulla percezione dei decenni precedenti.
Il suo lavoro mostra la relazione tra ciò che può essere considerato oggettivo e le suggestioni derivanti da questa oggettività, in un' operazione complessa quanto lineare. Prima di tutto, fotografa ciò che suscita le sensazioni più forti in lei, poi le reinventa con strumenti digitali, fino ad ottenere la sua personale visione del soggetto fotografato.
Ubicazione: HALLS DU MARCHE historique de Dijon entre rue BANNELLIER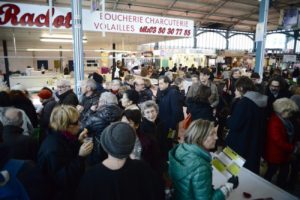 OFFICIAL OPENING OF ITALIART FESTIVAL 12° EDITION 2018
FRIDAY, MARCH 9 AT 11AM: IN THE HALLS (FREE)
Opening of the exhibition « De DANIELA CORSINI », with authorities, artists and the media.
PERFORMANCES BY ITALIAN ARTISTS
Appéritif by the Town Hall of Dijon, pizza tasting by Pizza Passion (41 Rue Sambin, 21000 Dijon) and Italian gastronomical products by SOLE DI SICILIA market halls of Dijon.
DANIELA CORSINI (Florence)
(Pictures/Graphics)
Daniela Corsini is the founder of Filstrismo, the movement of pictorial photography whose constituent elements she defined at the beginning of this century, synthesizing in her art the psychological studies on the perception of previous decades.
His work shows the relationship between what can be considered objective and the evocations deriving from this objectivity, in an operation as complex as it is linear. First of all, she takes photographs of what arouses the most sensations in her, then reinvents them with digital instruments, until she obtains her personal vision of the subject photographed.
Location: HALLS DU MARCHE historique de Dijon entre rue BANNELLIER